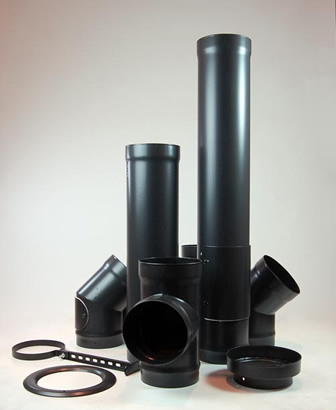 What comes after buying your stove?
Chimney liner is commonly used to line existing chimneys in preparation for a wood burning stove. Because a wood burning stove is so much more efficient than a fireplace the flue gases are much cooler. Therefore there is more condensation of tar as the smoke cools in the chimney. This is one of the reasons why it is important to line and insulate your chimney if you are using a woodburner.
Flue pipe comes in two basic types: Single skin and twin wall which is insulated. It also comes in 2 basic finishes – enamelled and stainless steel. Enamelled stove pipe has the advantage that it is already a nice colour, so you do not have to spray it. However, it may not last quite as long as stainless steel flue pipe
For more information about flue liner and flue pipe visit Stovesonline and either use their flue installation 'wizard' and/or speak to the dedicated flue designers who have an extraordinary competence in this complex area.