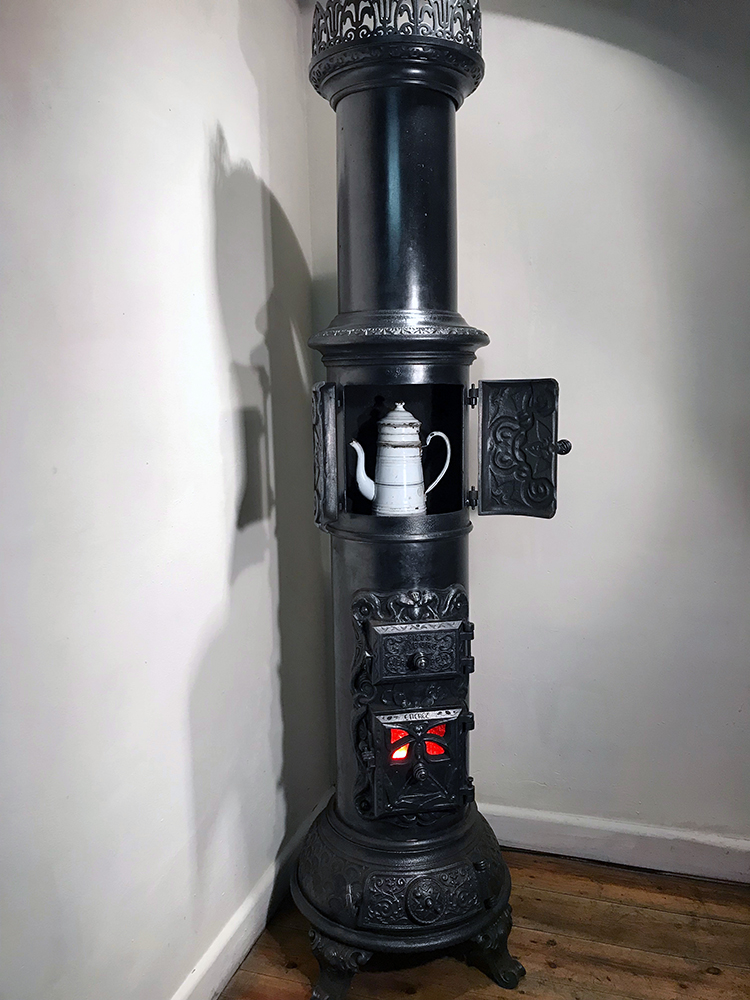 This is a stove that does justice to the word fabulous.
Cast around 1910 by the famous Nybörg jernstoberi (Foundry) in Jutland Denmark. This stove is a tour de force of the 'Skerne werke' offshoot of the 'Arts and crafts' movement.
The feet and base are decorated in archaic Norse style geometric decoration. Rising up, we come to the first section, which is a truly wonderful pierced work; the fire door in the form of a butterfly with wings that shimmer as the light of the fire illuminates them from inside. This feature is bracketed by dragonflies and framed by the tails of snakes that rise up to the next level – the feeder door. Which giving the makers marque is sensationally wound about by the serpent's heads, within whose jaws are captured an unfortunate frog!
Above the makers mark is one of the signatures that make these Scandinavian stoves so charming as well as practical; behind two doors (embellished with a rich design of yet more vipers – these showing the diamond motif that locates them as adders from northern Europe) lies the 'Kaffe offen,' an oven with removable concentric rings to place a coffee pot on to heat or just keep warm.
The final section or 'neck' is of handsome proportion rising to the literal 'Crown'– a beautiful pierced work creation which finishes this stove off at close to 2m high.
Restored to the highest standard of finish, the stove has new grate sets front and bottom plus a brand-new flue spigot chimney connection. This makes the stove ready for further decades of use with a fuel efficiency around 80% this really handsome creation gives between 5kw and 10kw, enough to heat a space with architecture large enough to show it off in its full glory.
Price £5,500